Tuesday, November 2, 2010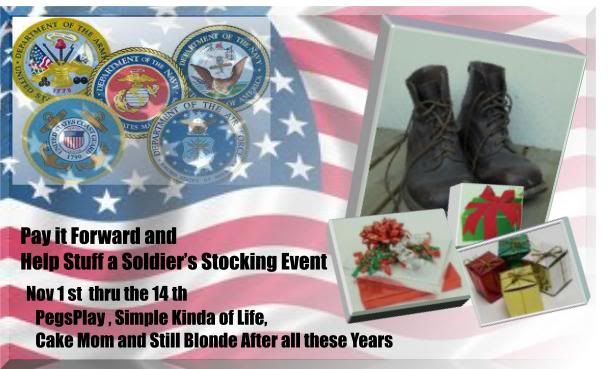 I just posted about Peggy's Help Stuff a Soldier's Stocking Event and all of the great giveaways that she is currently holding. (If you missed that post, click
here
, or just click on over to
Peg's Play
.)
Peggy from
Peg's Play
is heading this great event which is going to help raise some money and allow blog readers to win prizes with an option to "pay it forward" on several blogs by donating their prizes from the event to troops in exchange for a $10 gift card. Rather keep the prize? That's okay too!
Here on A Simple Kinda Life, I am going to be hosting a gift card giveaway every couple of days between now and November 14th (thanks to a Secret Santa). Although the "pay it forward" option is not occurring here, you do have the opportunity to donate money for some bonus entries. This is a great way to say "thank you" to the ladies and gentleman fighting overseas who will be away from their loved ones this holiday season.
Another way we can help the Troops and their families is to send them coupons!!
You can also send gifts!
Military families overseas can redeem expired coupons.
If you have expired coupons (1 to 2 months expired)
Please save them!
Also, please sort them!
The address to send them to is
"
Coupons for military family's over seas "
Operation Expiration
c/o Donna Presslor
205 N Harrison St
Russellville Indiana
46175-9797
GIVEAWAY
One of you will win a $25 Starbucks Gift Card!
To enter to win, tell me if you have a family member or a friend who is serving overseas.
For extra entries exclusive to the Holiday Stocking Stuffer event ONLY, tell me if you posted the Stocking Stuffer event button on your blog.
(Click
here
for the button code)
You can also tell me if you have entered any of Peggy's Stocking Stuffer Event giveaways (for a max of two extra entries only!)


If you donate a dollar to the fund (upper right hand on my blog) you get FIVE EXTRA ENTRIES!


For my regular extra giveaway options, please view my Giveaway Rules, updated 5/12/10.

This giveaway will end on November 14th, 2010, at noon, and is open to US Residents ages 18 and older.


Thanks for entering! Good luck!

Disclaimer: I was given the prize by a Secret Santa and am posting this giveaway just to help spread some good karma in this world. After all, we all need it!



Email this post