Tuesday, February 9, 2010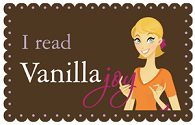 One of my favorite hobbies is papercrafting, although I don't get enough time to do it anymore! But I do own a Cricut Personal cutting machine and even though I haven't used it yet, I do hope to someday soon!

That's why this giveaway for 3 Cricut Cartridges at Vanilla Joy I'm sharing with you! I've entered and even though I'm hoping to win, I'm spreading the word!

Vanilla Joy is one of my favorite blogs to learn about craft room organization, craft organizer, craft storage, scrapbooking furniture, and craft room furniture!

So if you're into crafting, hurry over and enter to win!




Email this post