Sunday, November 22, 2009

Wow! is all I can say!
5 Minutes for Mom is giving away an HP Touchsmart 600 Computer
! I think this is GREAT! Especially since my pc is dying! I totally need this!!!
And, that's not all!
There are 9 blogs who are giving these away (hey - know the other 7 - besides 5M4M and JollyMom?! Let me know in the comments please!) and they're in a sort of competition - the blog that generates the most buzz about these giveaways will win TWO of these PCs!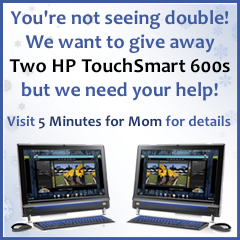 Head over and check it out!
This contest ends on Dec. 1st!!!
Email this post