Monday, July 13, 2009
Here's a hint: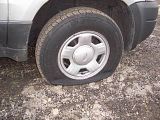 image via jjojo2004

Yup.

I got a flat tire. Not sure how or why, all I know is that my tire is flat.

I'm off soon to get a new one and wait in the tire shop for about an hour, something I'm soooo not looking forward to. But hey, you gotta do what you gotta do right?

Let's not mention that my spare is BAD. I mean, really bad. So bad that you can see the metal threads and it's not safe to even get me to work.

Yup. So I'll be getting another tire as a spare. Luckily the guy at the shop said they should be able to find me a used one to use as my spare.

So... how was YOUR weekend?



Email this post