Saturday, July 4, 2009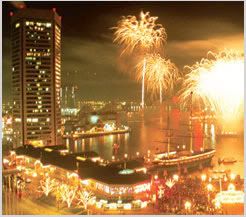 Independence Day
is one of my favorite holidays
EVER
! I grew up around rivers, particularly the
Ohio River
, so I remember watching Firework shows in
Chester, West Virginia
, while looking over to
East Liverpool, Ohio
, where they would set off the fireworks show.
As I've gotten older, it's one of my favorite memories and one I re-make with my children every year.
Let's not forget the reason for this holiday. As a granddaughter of two men who served in the military, as well as a niece of a
US Coast Guard
something-or-other, and the sister of a
United States Air Force Academy
Graduate, I appreciate the Military to it's fullest.
Oh yeah... and let's not forget that I work on an Army base,
Aberdeen Proving Ground
. I love the military! (
Except when I have to stop for their troop marches/runs, which can be really annoying when late for work!
Just kidding!)
Thank you to all of you who have served in our military, all branches. You have more courage and power than I would ever be able to.

God Bless America!
And you!
Happy 4th of July!
Tomorrow, we'll be driving out to BFE in Western Maryland to visit with my family, and on Sunday, we'll go to a local town that is having Fireworks so I can get my fix.
Email this post