Friday, July 31, 2009
image courtesy yashi_boobie2 on Photobucket
After my birthday, I wrote a
post
because most of the people who MATTER didn't acknowledge my birthday.
I wrote it down to get it off of my chest, and I re-evaluated (and will continue to do so, as I have for the past 10 years of my life) my relationships, and I decided that some people just aren't worth it. I made a choice that day that some people are not going to be involved in my life anymore. It's not just a missed birthday. It's 3 children's missed birthdays (plus mine), lack of contact, and more.
No one calls my children or I for our birthdays, so I should be used to it, but it's a hell of a thing to get used to. (Speaking of... today is my son's 13th birthday. Let me count how many calls we got wishing him a Happy Birthday. Hmmm...
none!
)
This is a file on my
MySpace
page and it's something I stand by:
10 days after my "rant" - today, I open my email to find emails referencing this from "family", and of course it pissed me off. I spoke my piece almost two weeks ago and i thought it was over. Now people are bringing it up again.
Pardon me for thinking that I could have my moment and be able to move on from it.
Bottom line... My opinion, your opinion, anyone's opinion are just that... an opinion. My feelings are my feelings and your feelings are your feelings. I respect your feelings (whoever I care about) and I would appreciate the same. If you can't see where I'm coming from, fine, but don't judge me. I'm entitled to feel any way at any time, as is anyone else.
And I respect that.
I don't appreciate, nor do I have time for, Drama. That's why I stay by myself as it is. And I guess I'll continue to do so.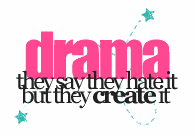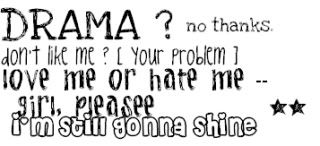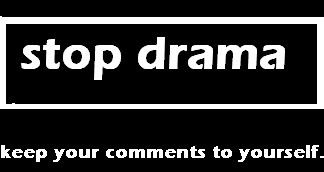 Email this post